General Trout Fishing Discussion

Moderators: muley7mm, TroutJournal, highcountry
Sure is grand when it doesn't snow! Sounds Great! We are close to long john season here. Temps are dipping and I am guessing we'll have snow showers next month. In Pa I love fishing in December for trout though. ALways a thrill to catch one when you think it might not happen. Love it all year here except Jan and Feb.
Posts: 115
Joined: Sat Aug 16, 2008 1:24 pm
---
Year around for me
"Some are big some are small but all of them was fun to catch"
Posts: 41
Joined: Fri Sep 19, 2008 9:17 pm
Location: Herriman,Utah
---
Haven't fished for 3 weeks. Something about Pa weather, when it turns cold it turns fast. I don't mind the cold but it just seems like the sun goes down too fast while the weather gets cold and it makes me want to wrap up in a blanket,sleep allot and get fat eating french fries and gravy. I plan on putting my long johns on and getting back with it next weekend. Deer season starts soon I'll probably take a break through that because we'll all be in the woods not on the stream. Pa venison is the best because they eat the best landscaping money can buy. LOL!! I'll fish through December and Jan but tend to only sneak out a day later on if it's warm and the sun is shining. Will start up again when the weather breaks in March. We get some high dangerous water early spring so whether we fish depends on that. Nothing like out west with big water but here we fish on foot and even our small what look like pathetic streams in August can get down right scarey early spring. No fish is worth visiting Davey Jones locker over. Can't wait to get out again. Fished some stillwater ponds just to play but it just isn't the same.
Posts: 115
Joined: Sat Aug 16, 2008 1:24 pm
---
No stopping me now.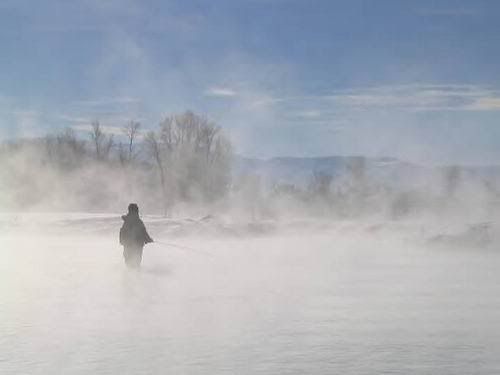 Posts: 23
Joined: Sun Sep 07, 2008 7:47 pm
Location: Utah/Idaho
---
---
Return to Trout Fishing General
Users browsing this forum: No registered users and 1 guest